The Lesser-Known Cost Of Dating – Romance Fraud
Online dating can be a very exciting time yet also a daunting time. With the Covid-19 lockdowns, there has, unfortunately, been evident growth in online dating fraud.
You've decided that you're finally ready to date and you've created your perfect profile, with awesome photos, a positive bio, and likes and dislikes etc. You've been honest and upfront and assume others will be the same, right? No, not always.
Unfortunately, there is a small minority who don't play by the rules of common decency and integrity, by fraudsters, so subsequently a few individuals have ended up with broken hearts and empty bank accounts.
The coronavirus pandemic has seen a surge of people signing up to online dating sites and dating apps. People have sought companionship, willing to chat online or by video call to keep loneliness at bay and hope to begin building the blocks of a romantic future. People have opened up to literal and virtual strangers, sometimes unwittingly exposing vulnerabilities and naivety.
The pandemic has also seen a surge in Catfish – they are cybercriminals who are adept at blending in with genuine profiles on dating websites. They are also proficient at manipulating and duping others, with a good sense for the lonely and vulnerable. Their profiles look good, they say all the right things and can quickly form a connection with you, even letting you in on secrets to make you feel extra special and so trust develops quickly.
The chat moves from the dating site to a more personal level – texting or using WhatsApp. Those first throes of passion are ignited! You have no suspicions that by chatting away from the dating site, any protection and evidence of scams is lessened. WhatsApp messages are also encrypted meaning no one else can see them, not even governments can, only the sender and sendee, which can work well for fraudsters.
Once they feel they have your trust, the demands may begin; a small amount of money towards a dental treatment or a train ticket to visit his or her elderly mother, and so forth. He or she may even send money from his/her bank account to yours, asking you to 'pay a friend' on their behalf. You may actually become a conduit for money laundering, although, to you, this wire transfer seems very innocent – after all, you're only moving some money and it hasn't actually cost you anything. Sometimes, the demands are much higher.
Real-life 'fauxmance' stories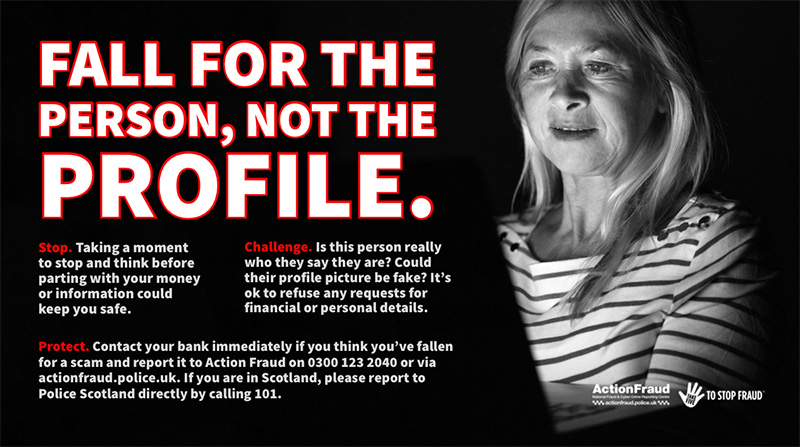 Rachel Elwell, from West Midlands, met someone on a dating website who lived nearby, had similar interests and seemed honest and sincere. He soon explained he had to delay meeting in person, citing work commitments due to start in Ukraine.
He then contacted Rachel to explain that Ukrainian laws had changed and that he needed to pay tax before work could begin. Ms Elwell reluctantly sent money to help after seeing a document allegedly from a tax office and her suitor saying he had also cashed in his pension, sold his car, and borrowed money from others.
Soon, pictures of him being held captive in a cellar by loan sharks were sent to her, frightening her, asking for more money. He informed her that he was released after the money had been sent by her, but there was still another problem – they wouldn't release his passport until interest had been paid.
Rachel felt that the documents he had produced seemed authentic, and was in genuine fear for what she was led to believe was a life-threatening situation, particularly when she hadn't heard from him for a period of time. When questioned why she had sent money to someone she had never met, she said she didn't want to feel responsible should something happen to him that she could have helped to avoid, ie. sending money to help secure his release.
Just over two months later, Rachel travelled to Heathrow to meet him flying back into the UK but, before meeting him, received an email to say he had been arrested. Only after informing Border Force officers did she find out it was all a scam. For extra confirmation, Rachel even visited his home in Coventry only to realise that there was no record of him ever having lived there. Rachel lost £113,000 in total to the romance scammer.
An anonymous female online dater from Wales began chatting to a man from Dallas and naturally that soon progressed to video calling, and her friends were even part of that, so no suspicions of potential scams were aroused in anyone.
The male suitor supposedly developed issues on a Dubai business trip a couple of months later. He had hurt someone in an accident and had to pay their medical fees. He supported this claim with photos of both him and the individual, on a ventilator, in the hospital. The unfortunate woman took out a loan for £6,000 to help him out.
The next demand was for £21,000 after allegedly being stopped while travelling to visit her in the UK. The victim obliged by taking out further loans. Only by the third attempt, involving some questionable and doctored documents, did he raise suspicion and the poor lady recognised the warning signs that she had fallen victim to an online dating scam.
This particular 'gentleman' had taken an image from the internet and manipulated it with software to make it appear that it was him talking on the video call, also known as a 'deepfake'. This fooled not only the lady involved but her friends too.  
Advice about how to stay safe
ActionFraud places the reported losses from victims at a massive £63 million in 2020. The true cost of romance fraud is likely higher than figures suggest due to victims being too embarrassed to report it. Astoundingly, online shopping fraud came in at £5 million lower than dating fraud! UK Finance has also stated that there was a 20% increase in bank transfers, in 2020, compared to those in 2019, linked to dating fraud.
Although women are statistically more likely to fall victim to romance scams, and the age group of between 55-64 years old, anyone considering or actively using online dating needs to be aware of the 'dos and don'ts' of how to stay safe.
Do
Stick to reputable websites and apps, such as Flirtio
Raise any suspicions with friends and family members to see if your suspicions match.
Sign up for your free Notty account for FraudWeb searches to see if your details have been taken and are on the Dark Web. There are some fantastic blogs about online safety there too.
Use Google to reverse search an image if you have suspicions it is not genuine. You should also report this to the website owners.
Check out the other awesome Flirtio blogs on how to stay safe, finding out more about your date online and red flags to look out for.
If their profile picture is blurry, doesn't feature them or just feels too good to be true, it could be their intent to mislead you. Alternatively, it could also be due to a lack of confidence, but just be aware.
Block anyone that behaves inappropriately, no matter how much you feel it may be insignificant. Report the profile to the site owners too because this will protect other users too.
Keep all of your device software up to date, Notty has a great deal on McAfee Total Protection.
Don't
Give out any personal information, such as full names, DOB, address or your workplace. This can be used at later dates to steal your identity or can be sold on the Dark Web.
Provide copies of personal information such as your driving licence or passport
Send money to anyone or on behalf of anyone
Take out a loan for anyone, no matter what the reason might be
Agree to take or send parcels for anyone, even more so if you don't know what it contains
Click on links in emails you have received from someone you barely know, it could infect your device with a virus that captures all of your sensitive information
Where to report online fraud
Whether you are a victim or merely suspect you might be, it should be reported to your bank (if you have sent or had money taken) and to ActionFraud immediately or call them on 0300 123 2040. They have advisors available 24 hours a day to help with any dispute.
Stay safe and don't end up out of love AND out of pocket!!