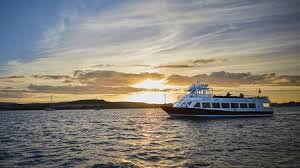 For something a little different, get over to Tinside Lido, which sits comfortably in the top 10 of the best outdoor pools in Europe. Built in 1935, this saltwater outdoor swimming pool offers swimming, a sunbathing deck and a great little cafe. Look out for special events such as live music and cinema evenings too.
The Mayflower is an extremely well-known name around Plymouth. In September of 1620, one hundred and two passengers embarked on The Mayflower bound for the 'New World'. They disembarked some weeks later at Plymouth Rock in North America. There is a great museum of the same name housed over three floors, that tells the tale of the Pilgrims. From the balcony, you will have a stunning view of the Barbican. The Mayflower Steps aren't the original steps unfortunately but there is a granite block etched with the name of the ship and the year she set sail.
Plymouth Gin Distillery is closely linked to The Mayflower. It is said that some of the passengers spent their last night here, before leaving for North America. The building dates to the 1400s and has been a working distillery since 1793, home to Plymouth Gin. There are three different tours for gin lovers or gin beginners, ranging from 40 minutes to over 2 hours. You can learn about the history of the distillery, which has been making the original gin recipe since beginning in 1793, and you get to sample one of their gin and tonics at the Refectory Bar or you can take one of their miniatures home to sample later.