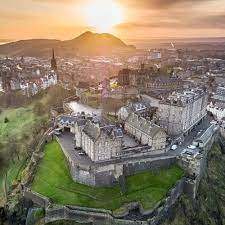 Camera Obscura & World of Illusions, located close to Edinburgh Castle, guarantee you will both have a fun time. From mind-bending illusions to mirror mazes, a Vortex tunnel (which of you may stumble first?) and thermal cameras, and so much more, you can both let your hair down and enjoy the laughs together. Their Roof Terrace offers panoramic views over Edinburgh where you can marvel at this beautiful city.
If you consider yourselves shopaholics, then Edinburgh will certainly cater to your needs. Whether you just wanted to browse the local markets, shop in the high street stores on Princes Street or treat yourself to something designer on George Street or Multrees Walk, you will find what you need. And not forgetting The Royal mile, leading to the castle, is where you can get all of your souvenirs, with some great little taverns and restaurants to grab a snack.
The remarkable castle surveys all of Edinburgh from where it sits. Steeped in rich history, the castle has a tale or two to tell from its reign, beginning life as an Iron Age fort in the 2nd century. With Kings and Queens coming and going, and sieges being common occurrences, the castle was also the first place to host a firework display in Scotland in 1507 (fun fact!). The venue has tens of more strange-but-true memoirs to explore. The castle mainly serves as a tourist attraction these days but the British Army still uses parts of the castle in a mainly administrative way.