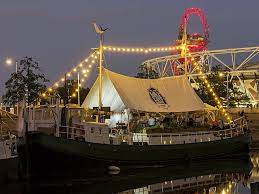 Barge East is another refurb, from a 118-year-old Dutch barge to an award-winning floating restaurant (TripAdvisor 2019 – London's best-rated restaurant). Specialising in a modern British menu and using homegrown produce, you can order from the set menu or a Sunday roast at weekend and be assured you'll get the freshest meal available. You can also order from their street food menu and enjoy a 'boozy hot chocolate' on their heated terrace.
London has a great number of museums and galleries to visit, many of which are also free to enter. You can visit Tate Britain and then just a short boat ride away, you can visit Tate Modern. You can easily pass a few hours around the National History Museum, which regularly hosts special exhibitions. The museum also offers a grown-up sleepover! You can access galleries, look forward to stand-up comedy, a live harpist, cocktails until 12.45 am, tea or coffee until 2.30 am, all-night monster movies, breakfast and optional yoga class should you choose to join.
For something a bit different than the usual cinema trip, head to a drive-in cinema. Simply tune in to the FM station you're told for your sound, and sit back and watch on the giant screen. Refreshments are brought to your car if you choose to order any. Another version is the floating cinema, which means you get to watch your film from a boat. You listen to the film using wireless headphones, indulging in Häagen-Dazs ice cream if you wish. If you'd rather have your feet on the ground, you can choose seating on the towpath.