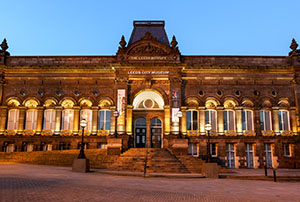 Leeds is home to a number of interesting museums and galleries. The Thackray Museum gives a fantastic glimpse of medical history over the years. There is a reconstructed street from 200 years ago, equipped with sights and smells of the past, giving you a sensory experience while showing you just how far we've come with medical advances over the decades.
Leeds City Museum has a huge amount to see, from the ancient world and thereon. Involving the Egyptian times, Romans and Greeks through to Leeds' modern links with Asia. There are 800,000 animal, vegetable and mineral specimens, some prehistoric and fossilised. There is a good cafe on site, which in the warmer months, you can sit out and enjoy the views of Millenium Square.
Leeds Art Gallery, a free attraction, owns a stunning collection of British contemporary and modern art. You can view assortments of Victorian art and there is a piece by Damien Hurst – 'Black Sheep With Golden Horns'. The Tiled Hall, where the cafe is situated, is well worth looking at alone just for its sparkling ceiling and beautiful ceramic tiled walls. There are associated galleries to roam with exclusive exhibitions too.
For the shopaholics among us, Trinity Leeds has so much to offer, including dining and entertainment. There is a great variety of shops to peruse, and cafes, bars, restaurants and a cinema, leaving you plenty of options to choose from for that perfect date night.
There is so much more to Leeds than meets the eye. As Covid restrictions begin to lift in the future, it is likely that Leeds Festival at Bramham Park will resume and also the West Indian Carnival. Who said a date had to be run-of-the-mill?