How To Date While Quarantined!
Hands up if you're working from home and you're practising social distancing? You could feel extremely isolated if you are single- the pubs and restaurants are closed, and physical social interaction is at an all-time low. These are not ordinary circumstances where you can venture out, chat to someone and maybe hook up.
Have you thought that now could be the time to look into dating? (And no, we've not gone mad!)
If you want to forge a genuine connection with someone, this could be just the time to start! Starting a relationship slowly means you get to emotionally connect rather than just going for what you see on the outside. Social distancing dating could be just what you need during the coronavirus outbreak.
There are so many ways to be in contact. Think Facetime, WhatsApp calls, text messages, social media, Skype, and so much more. How wonderful to meet someone that you are not only attracted to but that you also connect with on an intellectual level.
If it doesn't work out and things get weird, you can end the calls and block them! People can write in a message whatever they like, convince you how they would like to be seen or even catfish you whereas face to face calls are harder to fake.
Some people are taking the quarantine and dating scene very seriously. So much so, that two men Thi Lam and Rance Nix have developed a way of combining them. 'Love is Quarantine' is a take on the Netflix show 'Love is Blind' where potential matches are in a pod, talk through a wall, fall in love and even get hitched!  
The two roommates use an Instagram account with a spreadsheet that the singletons fill out and the duo try to match them with others. The young singles then film themselves before the 'date', during and after, for anyone to watch and enjoy. "It's raw and fosters a sense of community as everyone is just stuck in your apartments," Nix said.
If that doesn't appeal to you (or you don't live in San Francisco or New York!), what else can you do?
– Order your favourite meals simultaneously and have them delivered to your individual homes and video chat whilst eating together.
– Download some games that you can play against or with each other online, or even play a board game on a call if you both own a version.
– Use the 'Netflix extension' and watch the same Netflix show at the same time, just not next to each other.
– Watch the same programmes or movie whilst video chatting.
– Set an alarm and have breakfast 'together' via Skype or WhatsApp video call
– A date night whilst drinking cocktails over video calls
Dating seems to be taking off at the moment, somewhat surprisingly, with Tinder also issuing a warning about how to stay safe.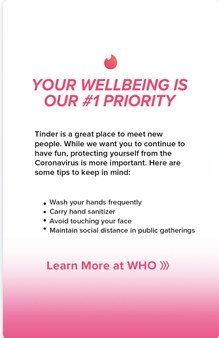 Many people seem to be a little bored at home and looking for company. We may be on a lockdown in the UK and hand-holding with a kiss at the end of a date is out of the question, but how much harm can it do to connect with someone else? At a time when mental health could suffer, having human contact is a great booster and if you only make a good friend out of it, what have you got to lose?